How To: Use Zigpoll to add a contact form on your order pages.
Shopify is an amazing e-commerce platform that enables business big and small to sell their goods online. This article will teach you how to enhance your customer service by adding a contact us Zigpoll to your order pages. This way, when a customer checks in on his or her order, they can send you a note if they have a question or a bit of feedback. This gives you the chance to increase your customer service relationships and build better customer loyalty. Our Shopify app makes adding this form a breeze to set up. In fact, it's so easy we can walk you through it in just three steps.
Step 1: Install the Shopify App
Click here to install the app to your Shopify store. Our Shopify app is free so theres no need to have a production store at this point in time. This makes it easy to build it out on your development store first if you prefer.
Step 2: Create your Poll
Once you install the app, you will be prompted to create your first poll. Name is something easy to remember like "Order Status Poll". Then on Step 2, select "Start with a template" and select "Order Status". Step three is up to you. We recommend you start with a template, but if you want to build out your form from scratch, you can do that as well. For this example we will be using the "Contact Us" template.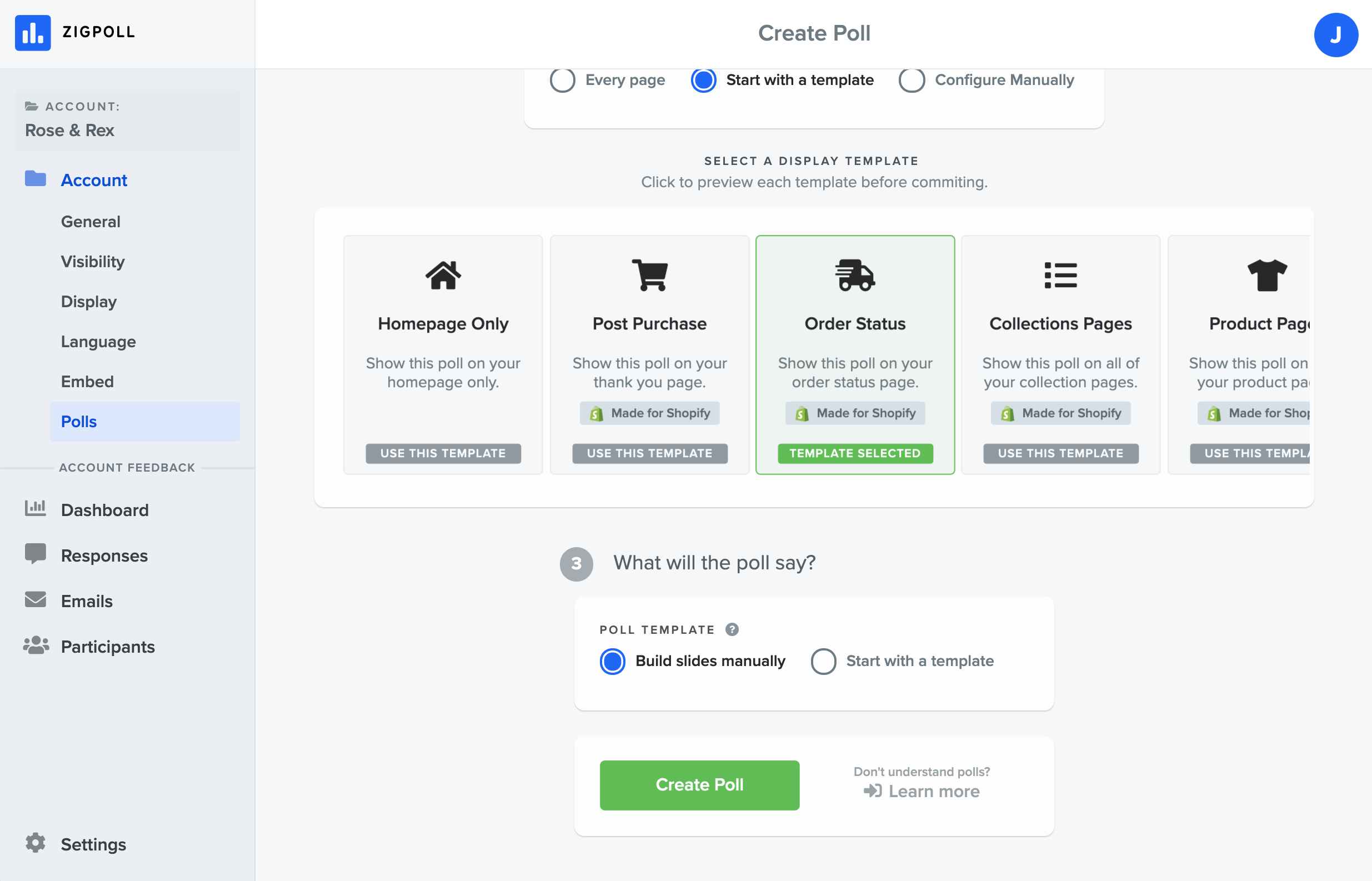 Step 3: Finish your slides and make the poll visible.
Now that you've set up your poll and it's configured to show on your checkout page, all you need to do is decide what you want to say on your form. This ultimately depends on your business, but it's a good opportunity ask if your customer has any feedback or needs any help. Click the switch on the top right to make your poll visible. Once it's visible your customers will see it on their order status pages. You can test this out on your own store to make sure that things are exactly how you like it.
That's it! Sit back and enjoy all your new feedback. Happy polling!
So let's do this.
Try Zigpoll and get the most out of your visitors.
Questions or Feedback?
We would love to hear from you!