Get Informed.
Learn what your audience wants.
Simply ask your customers they want you from you. You'll be surprised with how honest they can be. Our flexible and fun polling tool has enabled business big and small to better understand their users.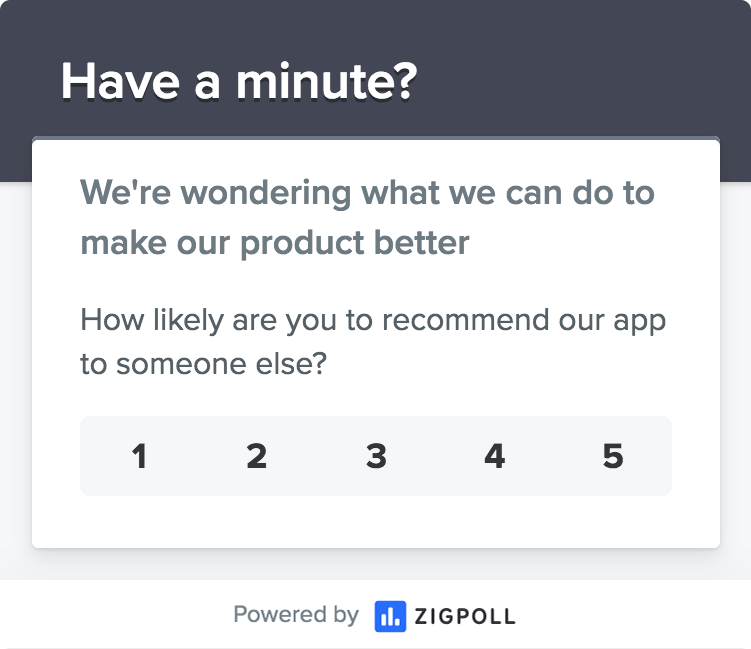 Optimize your feedback loop.
Use polling to capture leads and convert customers.
Our widget makes it simple to learn what your customers want from your product.
Tighten your feedback loop
Allowing users to voice their opinion in real time adds fun to the feedback process.
There's a format for every question! Multiple choice, binary and short answer questions are just a few of our supported options.
Learn about your users
Our Email Capture feature lets you embed email campaigns directly into your polls.
Plus, Participant Tracking gives you visibility into who is saying what about your product.
Incentivize and Engage
Easily customize any Zigpoll to offer incentives in exchange for email collection or feedback.
Make giving feedback fun for your customer by offering discounts, prizes or special deals.
So let's do this.
Try Zigpoll and get the most out of your visitors.
Questions or Feedback?
We would love to hear from you.